Construction And Commercial Litigation – Administrative Law -Professional Disciplinary Defense
Trial Attorney John Henry Wright, Esq.
Mr. Wright has been litigating cases for over thirty years.  He began his professional life out of law school by clerking for a judge in Honolulu's felony trial level court. Soon after finishing his clerkship, he began his solo practice by taking on indigent criminal defense cases as a court – appointed defense attorney.  This gave him immediate and early exposure to the courtroom, handling serious felonies of all classes and types against much more senior prosecutors.  Unlike most attorneys of his age and tenure at the time, being a solo practitioner, John had complete autonomy over his case strategy which also meant he had to learn his craft on the job and by seeking out mentors from the seasoned defense lawyers he had watched as a law clerk.  This early education, which lasted several years, served to form the way he continues to practice today – preparing harder than the opposition, expecting the unexpected and never underestimating the opponent.   
As court-appointed work wouldn't' pay all the bills, John also began taking on another type of caseload handed down by his retiring stepfather – government procurement litigation.  Representing government contractors in construction claims for additional compensation or defending them from wrongful termination of their contracts.  This quickly led to representing contractors in all types of situations including private contract disputes and what he focusses primarily on today- representing contractors in disputes with other owners, other contractors, and regulatory bodies.
Handling these two seemingly divergent areas of law has led John to be the rare recipient of an AV "Preeminent" peer rating by Martindale & Hubble in both Commercial Litigation and Criminal Defense – the highest rating awarded by one's peers in the community.  This unique experience brings together different key skill sets- the ability to think on your feet under pressure and the discipline it takes to plan and execute complex, detailed oriented and oftentimes highly technical cases.
John relocated to Las Vegas and began practicing in Nevada in the late 1990s and continues to handle the same types of cases.  Today, John's practice focusses on representing contractors in legal disputes- civil, administrative, and criminal.  This means contract review, filing and defending breach of contract claims, mechanic's liens, bid protests and defending regulatory investigations from the Nevada State Contractors Board and the Manufactured Housing Division. This also means being able to competently defend criminal accusations surrounding contracting such as: acting without a license, fraud, theft or violating safety regulations.
John's depth of knowledge and extensive practice has led him to handle upwards of 150 cases before the Nevada and Hawaii Supreme Courts as well as the Ninth Circuit Court of Appeals- oftentimes at the request of other law firms.  Since 2001, John has presided over hundreds of cases as an arbitrator, and has served as a Short Trial Pro Tempore Judge in Clark County since 2007.  John has also completed Mediator training offered by the National Judicial College.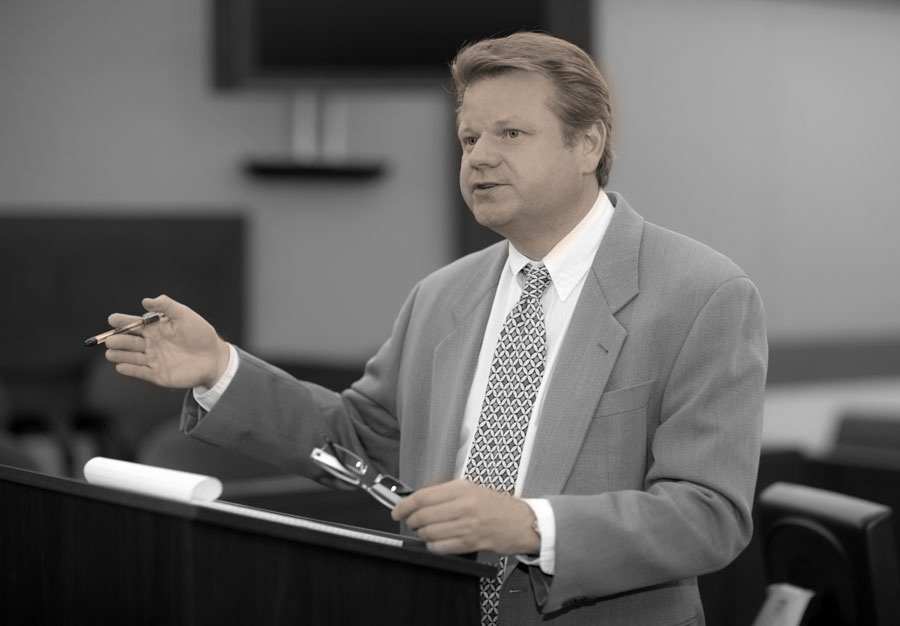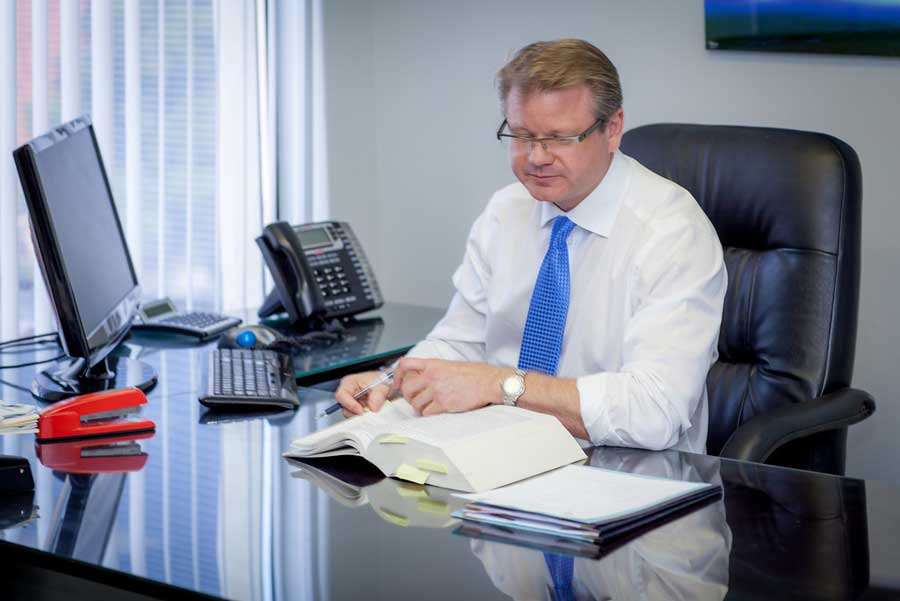 Martindale-Hubbell

Bar Admissions:
All State and Federal Courts of Nevada (1996), Hawaii (1991) the Ninth Circuit Court of Appeals (1994).
Education:
Doctor of Jurisprudence.

 

West Virginia University, College of Law.

 

May 12, 1991.
Bachelor of Arts in Political Science.

 

University of Hawaii at Manoa.

 

August 14, 1988.
Published Cases:
Fausto v. Sanchez-Flores, 37 Nev. Adv. Rep. 11, 482 P.3d 677 (2021)
Establishing Nevada precedent in the doctrine of equitable tolling of statutes of limitations in intentional torts.
Finley v. City of Henderson (In re Finley), 135 Nev. 464, , 457 P.3d 263 (2019)
Overturning the District Court's denial of a petition to seal a criminal record and establishing the way all future courts treat multiple convictions in sealing cases.
Wells Fargo Bank NA vs. Radecki, 134 Nev. 619, 426 P.3d 593 (2018)
Establishing that in HOA foreclosure sales, a bidder's knowledge of a competing interest and subjective belief that the sale might not be valid does not result in unfairness or irregularity.
K&P Homes vs. Christiana Trust, 133 Nev. 364, 398 P.3d 292 (2017)
Holding that judicial interpretation of a statute is that the interpretation gives the meaning of the statute from its inception and does not merely give an interpretation to be used from the date of the decision.
State of Hawaii vs. Hoey, 77 Haw. 17, 881 P.2d 504 (1994) (Amicus Curiae)
A landmark case dramatically increasing the effectiveness of Hawaii's speedy trial rule (HRCP Rule 48) in ensuring cases are swiftly brought to trial or are dismissed.
John can be reached on our Contact Page or call us now at (702) 405-0001 to arrange a consultation.